Contractor serving Mercer County NJ & Bucks County PA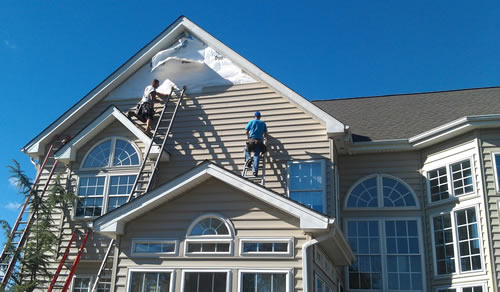 Which Siding is right for your home? Quality Care Home Improvements will assist you in selecting the best siding for your home.
Traditional Lap Siding: The simple lines and ease of installation have made lap siding the most popular cladding for homes. The vinyl siding styles today include many different textures, shadow lines and colors to meet individual preferences. Mastic offers 13 different traditional lap siding product lines, standard lap panels from 3″ to 7″, Dutch Lap profiles, and smooth or multiple wood grain finish options.
Vertical Siding: Vertical siding comes in different profiles and dimensions to accommodate a wide variety of design styles. Vertical siding has become very popular as an accent element or design feature. Because the pattern of vertical lines can have a very powerful effect, it is an excellent choice for entryways, low porch walls, gables, and dormers.
Insulated Siding: A home insulation system can have many benefits. Natural beauty from longer flat faces, significant insulation values, toughness, sustainability and the peace of mind of a lifetime warranty.
Call us now to plan your siding installation: 215-943-5096
Recent Siding Projects: